DISCO Corporation has announced it has developed an ingot laser slicing method called "KABRA" (Key Amorphous-Black Repetitive Absorption) for SiC wafer which enables high-speed wafer production with reduced material loss.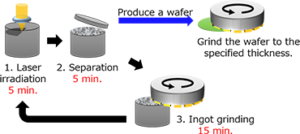 Compared with existing diamond wire saw process, the total processing time per ingot reduces from 2.5-3.5 days to 18 hours. Also, the number of wafers from one ingot increases from 30 wafers to 44 wafers when producing 350um wafers from 4-inch 20mm thick SiC ingot.
DISCO will present the process in The Japan Society for Precision Engineering Autumn Meeting / The Japan Society of Applied Physics Autumn Meeting in Sep 2016 and the equipment will be displayed at SEMICON Japan 2016 on 14-16 Dec 2016.